Boone Trails
---
2016-2017 VOA Officers: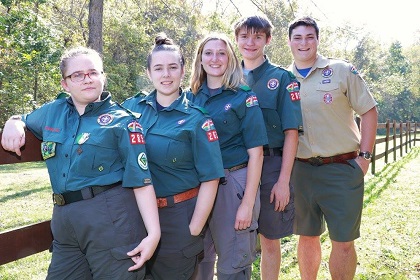 President - Adam Woodward
VP of Administration - Aaron Apple
VP of Program - Sam Apple
VP of Communication - Ellie Wright
Advisor - Erin Tuley
District VOA 2016-2017 Mission Statement:
The mission of the Boone Trails District VOA is to grow the Venturing program through greatly extending our promotional materials to retain, grow, and recruit the development of youth, all while upholding the values of the Scout Oath and Law.
The Boone Trails District serves St. Charles, Lincoln and Warren Counties in Missouri.
District VOA Meetings
Meetings are every 4th Tuesday of the month at Immaculate Conception Catholic Church of Dardenne Prairie in the School Den.
Venturing Facebook: click here
District Facebook: click here

District Page: click here
Upcoming Events, Activities and Trainings