Gravois Trail
---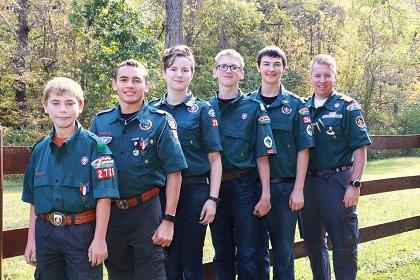 2016-2017 VOA Officers:
President - Sam Beadle
VP of Administration - Lathan Harlan
VP of Program - Garrett Knapp
VP of Communication - Asher Agers
Advisor - Michael O'Donnell
VOA Member- Alex Valentine
District VOA 2016-2017 Mission Statement:
We, the Gravois Trail District VOA, will strive to promote recruitment and advancement, encourage leadership and community involvement, and enhance communication skills through fun activities on both a district and unit level.
The Gravois Trail District is located in South St. Louis County and the Fenton area. It consists of the southern edge of the Rockwood School District, as well as the Lemay, Lindbergh, Bayless, Hancock Place, Mehlville, and Affton School Districts.
Venturing Facebook: click here
District Facebook: click here
District Page: click here
Upcoming Events, Activities and Trainings