New Horizons
---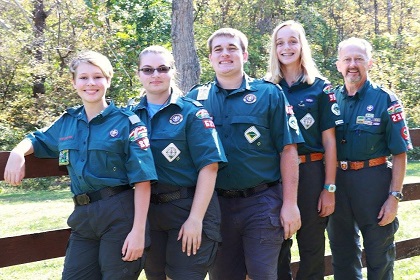 2016-2017 VOA Officers:
President- Paul Trebing
VP of Administration- Joey Schmaltz
VP of Program- Hannah Pennington
VP of Communication- Anya Carpenter
Advisor- Alan Ritter
District VOA 2016-2017 Mission Statement:
The mission of the New Horizons District VOA is to spread the joy of Venturing by increasing membership and participation through enhanced, varied, and increased program that caters to a wider variety of scouts.
New Horizons District is in West St. Louis County and serves the school districts of Brentwood, Kirkwood, Webster Groves, Parkway, Valley Park and Rockwood (except for the Fenton portion of Rockwood, which is served by the Gravois Trail District).
Meetings:
New Horizons VOA meetings, roundtables, are held the first Tuesday of every month except July. They are held at Manchester United Methodist Church in room 137. This is near the corner of 141 and Manchester Road. They start at 7:35pm. Encourage all members of your crew to attend, especially your officers. Each meeting we try to break into two groups during the meeting, adults and youth, and focus on two different "How to" subjects geared for the individual groups.
Venturing Facebook: click here
District Facebook: click here
District Page: click here
Upcoming Events, Activities and Trainings