Osage
---
2016-2017 VOA Officers: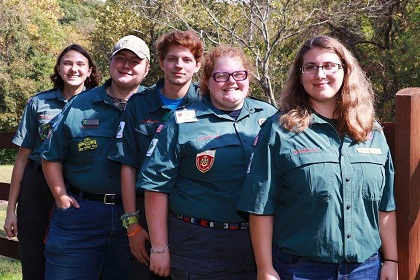 President- Ukko Devos

VP of Administration- Hollis Hervey

VP of Program- Oliver Landwehr

VP of Communication- Isaac Betzold

Advisor- Julia Eagan
Osage District VOA Mission Statement:
The mission of the Osage District VOA is to support the crews in our district by providing training, knowledge, and cheerful service; and to grow our district with activities and advancement.
Duties & Responsibilities of the VOA:
-Organize, promote, and give leadership to all Council and District Venturing activities, events, and trainings.
-Participate in and provide opportunities for service.
-Promote Venturing camping opportunities, especially the John S. Swift Base.
-Provide recognition of youth, adults, and units through implementation and promotion of advancement and awards programs.
-Provide avenues of communication among Council, District, and Unit leadership.
-Act as a resource Unit Venturing Programs.
-Provide youth leadership to the district operating committees.
Venturing Facebook: click here
District Page: click here
District Blog: click here
Upcoming Events, Activities and Trainings