You are hereHome / What is Venturing?
What is Venturing?
---
Venturing is the young adult program of the Boy Scouts of America for young men and women ages 14–20, or 13 with completion of the eighth grade. Its purpose is to provide positive experiences to help youth mature and to prepare them to become responsible adults. It is based on a unique and dynamic relationship between youth, adult leaders, and organizations in their communities. Sea Scouts are the nautical oriented part of this program.
Methods and Ideals
In accordance to the BSA's "One Movement, One Oath, One Law" declaration, as of 2014, Venturers will learn and live by the Scout Oath and the Scout Law.
The Methods of Venturing are:
Leadership and Mentoring All Venturers are given opportunities to learn and apply leadership skills. A Venturing crew is led by elected crew officers. The Venturing's program modal provides explicit training experiences to help youth lead and mentor as well as opportunities to test and refine their skills during youth-led and youth-mentored adventures.
Group Activities and Adventure Venturing's emphasis on adventure helps provide team-building opportunities, new meaningful experiences, practical leadership application, and lifelong memories to young adults. Venturing activities are interdependent group experiences in which success is dependent on the cooperation of all. Learning by "doing" in a group setting provides opportunities for developing new skills.
Recognition Personal growth comes through the Venturing recognition program and through the acknowledgement of a youth's competence and ability by peers and adults. The recognition program is more than just earning awards. As a Venturer progresses through the four levels of the Venturing recognition program, he or she will learn valuable skills and competencies that have been identified as vital to achieving success in education, in a work environment, and in life.
Adult Association The youth officers lead the crew. The officers and activity chairs work closely with adult Advisors and other adult leaders in a spirit of partnership. The adults serve in a "shadow" leader capacity. The Advisor is there to support and challenge youth officers to make the best decisions as they learn to lead their colleagues on adventures of ever-increasing challenge and sophistication.
Ideals Venturers are expected to know and live by the Scout Oath and Scout Law and commit to serving God and country, other people, and themselves. A Venturer measures himself or herself against these ideals and continually tries to improve. The goals are high, and Venturers reach for them, continuously meet the challenge, and answer the question of how these statements of personal value guide their life path.
Group Identity Peer groups are essential for the growth and development of young adults. Group identity is the shared sense of belonging to a group with common values and serves as a means to build positive group interactions and self-confidence. Some crews use outward signs of group identify, such as a uniform or jacket, but a crew may decide to form and identity that is more focused on shared commitments.
Service As a Venturer, service encourages youth to identify a community need and to take action to address that need. Service helps youth make a difference in the world beyond themselves and in the process develop the disposition to put the needs of others first.
The Ideals of Scouting:
When you make the commitment to join Venturing, you are not just joining your crew. You are joining the worldwide Scouting movement. The ideals in the Scout Oath and Scout Law are the guidelines all Scouts use to guide their thoughts and actions. They are honored by Scouts around the world.
Scout Oath
On my honor I will do my best
To do my duty to God and my country
and to obey the Scout Law;
To help other people at all times;
To keep myself physically strong,
mentally awake, and morally straight.
Scout Law
A Scout is trustworthy, loyal, helpful, friendly, courteous, kind, obedient, cheerful, thrifty, brave, clean, and reverent.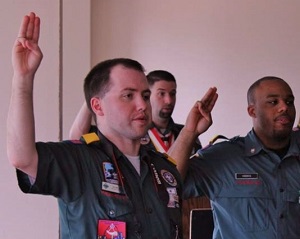 Scout Sign
The Scout Sign is made with your right hand with the palm face outwith your three middle fingers up, the thumb holding down the little finger.
Organization
The Venturing crew is sponsored by a community organization such as a business, service organization, school, labor group or religious institution. The chartering organization is responsible for selecting leadership, providing a meeting place and promoting a good program. The chartered organization representative is the liaison between the crew, the chartered organization, and the BSA. The crew may elect to be all-male, all-female or co-ed.
The crew committee is a group of adults, led by the crew committee chair, who guide the crew program and activities and manage record keeping, finance, leadership recruitment and registration. The crew is led by youths who are elected to the positions of president, one or more vice-presidents, secretary, and treasurer. Other positions in the crew may exist, such as activity chair. The adult advisor and associate advisors provide guidance while allowing the youth to lead the crew.
Uniform
Currently, there is no official uniform for Venturing crews. Crews decide for themselves whether to have a uniform, and if so, what uniform elements are to be worn for dress and activity situations. This has resulted in a variety of uniforms for both formal and activity situations.
Formerly, Venturers were allowed to develop their own Distinctive Dress Identity (DDI), thus designing their own uniforms. The term is no longer used in the Venturing program. The official Venturing field uniform consisted of a spruce green short-sleeve button-up shirt or blouse with a pointed collar, two front button-flap pockets, shoulder epaulets with shoulder loops, charcoal gray trousers or shorts, gray socks and a gray web belt with brass buckle. The gray cap and the gray brimmed hat with Venturing logo are also available for use by Venturing crews. The shirt comes with a US flag attached to the right shoulder and a Venturing – BSA strip above the right pocket.
The BSA Supply Division offers the spruce green shirt and charcoal grey pants and shorts that crews can use as part of their uniform. In some crews, the Boy Scout field uniform is modified to become a Venturing field uniform, though this practice is officially discouraged. According to the Insignia Guide, Venturing insignia, such as the green shoulder loops, Venturing emblem and badges of office should not be worn on the khaki Boy Scout uniform shirt. At the same time, the Venturing Division's official policy is that the choice of uniform, if any, is strictly up to the crew members, creating somewhat of a uniform policy paradox. Crews deciding to wear the official spruce green shirt as part of their uniform are expected to wear the correct insignia, as outlined in the Insignia Guide publication.
The original ideals of Venturing from 1998 - 2014:
The Venturing Oath
As a Venturer, I promise to do my duty to God and help strengthen America, to help others, and to seek truth, fairness, and adventure in our world.
The Venturing Code
As a Venturer, I believe that America's strength lies in our trust in God and in the courage, strength, and traditions of our people. I will, therefore, be faithful in my religious duties and will maintain a personal sense of honor in my own life. I will treasure my American heritage and will do all I can to preserve and enrich it. I will recognize the dignity and worth of all humanity and will use fair play and goodwill in my daily life. I will acquire the Venturing attitude that seeks truth in all things and adventure on the frontiers of our changing world
The Venturing Sign
A raised right hand with the palm open, upper arm held horizontally and the forearm vertically. The right thumb is held slightly open, creating a "V."
The Venturing Hand Salute
A full-hand salute, with the pointer touching the forehead or hat brim.